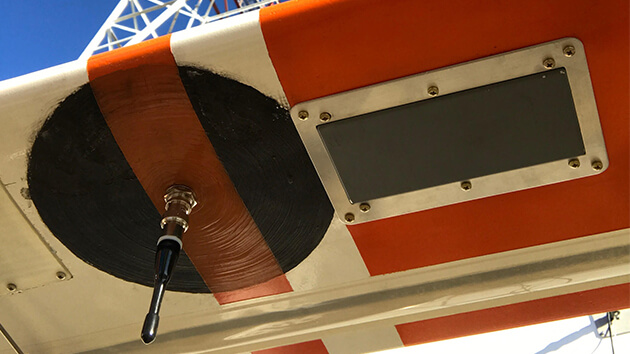 In a series of test flights conducted over the last nine months, Rockwell Collins and BNSF Railway have successfully demonstrated how UAS are used to perform Beyond Visual Line of Sight (BVLOS) long linear operations, like inspecting railway tracks using unmanned aircraft, which can increase safety and efficiency for railroads. Additionally, through authorization received from the Federal Aviation Administration (FAA), BNSF is flying without visual observers, making the latest round of test flights the first true BVLOS commercial UAS flights in the continental U.S.
During the flights, BNSF controlled its aircraft utilizing the Rockwell Collins control radio data link network deployed throughout BNSF's Clovis, New Mexico, operational subdivision. Using BNSF's licensed radio spectrum and telecommunications network, the command and control radio automatically detects the best tower-to-aircraft link and manages tower handoffs while maintaining positive aircraft control as the UAS navigates across the range. The aircraft can be launched and recovered from anywhere in the network. In addition, the network can conduct both tower and ground control station hand-offs.
"These tests are yet another successful milestone as part of our railway safety enhancement research and the FAA's Pathfinder Program," said Todd Graetz, director, Technology Services/Unmanned Aerial Systems (UAS) at BNSF. "We believe these tests will provide a roadmap for how organisations such as ours can safely and routinely fly UAS for commercial applications."
"The use of UAS has enormous potential for industries that need to monitor and inspect critical infrastructure, particularly in BVLOS scenarios like railroads, pipelines and power lines," said Ken Schreder, vice president, Strategic Programs, Information Management Services at Rockwell Collins. "Rockwell Collins' avionics and communications capabilities combined with our aviation network and rail industry experience make us uniquely positioned to provide these types of solutions. Ultimately, our goal is to offer a service that will enable companies to reap the benefits of connected UAS in their business operations."
Designated the CNPC-1000*, Rockwell Collins data link conforms to the industry developed performance standard for command and control submitted to the FAA by the RTCA Special Committee 228 for commercial UAS operations in the national airspace. Rockwell Collins, along with the FAA and National Aeronautics and Space Administration, has flown the CNPC-1000 on various aircraft. However, this test represents the first flight for a UAS controlled via a multi-node network of CNPC-1000's to enable the pilot in command to be over the horizon and significantly beyond visual line of sight of the UAS.
About Rockwell Collins
Rockwell Collins (NYSE: COL) is a leader in aviation and high-integrity solutions for commercial and military customers around the world. Every day we help pilots safely and reliably navigate to the far corners of the earth; keep warfighters aware and informed in battle; deliver millions of messages for airlines and airports; and help passengers stay connected and comfortable throughout their journey. As experts in flight deck avionics, cabin electronics, cabin interiors, information management, mission communications, and simulation and training, we offer a comprehensive portfolio of products and services that can transform our customers' futures. To find out more, please visit www.rockwellcollins.com.
* IMPORTANT NOTICE: The CNPC-1000 device has not been authorised as required by the rules of the Federal Communications Commission. This device is not, and may not be, offered for sale or lease, or sold or leased, until authorization is obtained.