NEW HIGH PERFORMANCE FIXED WING AIRCRAFT FOR COMMERCIAL GRADE SURVEYING
Baam.Tech has announced their company launch as well as the launch of their brand new fixed-wing aircraft, the Futura. The Futura was designed specifically for the commercial surveyor and centred around the strong belief that current commercial UAV systems fall short to accomplish timely and accurate data collection in the field.
Yesterday's drone utilizing surveyor had limited options. He could bring one of several delta wing systems into his operation but these systems have many limitations. The first being data collection. The light aircraft body is only capable of carrying a single camera at a downward facing angle which limits the scope of landscape the camera is able to pick up. An easy comparison to imagine is the limited perspective one is able to see while viewing a landscape on Google Maps under satellite view. Delta wing style UAVs allow many details to be left out and therefore data suffers.
---
---
Droneit RPAS Training Manager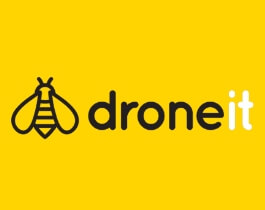 Droneit is an early starter in the Commercial RPAS Industry, and has very quickly developed a reputable and experienced brand. Given our experience in the RPAS Industry, Droneit is looking to impart our experience and knowledge to the next generation of Remote Pilots, and are looking for a suitably qualified individual to support our entry into the Training Market. Droneit is positioned in an ever-changing and fast-moving industry with a number of exciting growth prospects.
About the Position
---
---
South Africa's constrained commercial drone industry
Good news bad news, the South African Civil Aviation Authority (SACAA) has announced that to the end of January 2017 there are 368 licenced RPL pilots in South Africa. That number up from 33 in 2016.
"The substantial increase in the number of registered RPAS [remotely piloted aircraft systems] and associated licences in the country is not a surprise at all," SACAA executive, Simon Segwabe said.

"In fact, the increase has always been envisaged as the rapid advancement of this technology and its potential use in commercial and other activities make RPAS appealing to many prospective operators."
---
---
NEWS: Airware Customer Engagement Manager
Airware believes an accurate view of the world empowers our customers to make it a better place. We offer complete commercial drone solutions, enabling enterprises to take full advantage of aerial data for endless business applications. Airware's comprehensive solutions combine hardware, software, and cloud services to enable companies to efficiently manage and safely and reliably operate commercial drones at scale. We partner with some of the largest national and global corporations across Insurance, Mining, Construction, Utility, and Oil & Gas industries.
---
---
KENYA APPROVES DRONE REGULATIONS
Kenya has finally approved regulations for drones, becoming the second country after Rwanda in the region to embrace commercial use of Aerial Unmanned Vehicles (AUVs).
The move comes as a boost to firms, which have been waiting for the green light to import drones without worrying about legal implications.
The aviation regulator, Kenya Civil Aviation (KCAA), says the approval was made last week on Monday after the agency met with the top security organs to discuss draft regulations.
KCAA Director General Mr Gilbert Kibe said the gazette legal notice together with an Aeronautical Information Circular will be published as soon as official notification from the meeting is received.
---
---
FACEBOOK DRONE AQUILA SET TO RISE AGAIN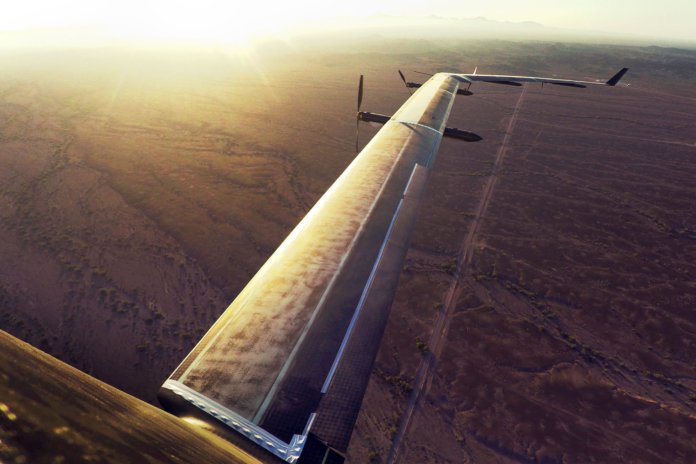 Graham Warwick of AvWeek reports that the Somerset designed Aquila is being prepared to fly again. Once you realised there was no triumphant landing, hand shaking hugging and whooping in the first flight video, it was obvious something had gone wrong.
We reached out and caught the word from Yuma the next day. The NTSB finished their report in December of 2016.
---
---
NEWS: UAVENTURE AND FLYINGWINGS RELEASE RTF VTOL- FALCON VERTIGO
UAVenture has partnered with Flyingwings to develop the Falcon Vertigo, the first in a range of ready-to-fly hybrid vertical take-off and landing (VTOL) drones.
When ordered together with the AirRails flight control system the Vertigo will be pre-tuned and ready-to-fly providing evaluators with a fast track way of trialling hybrid VTOL technology and seeing how AirRails can bring hybrid VTOL solutions to their own customer base.
The Falcon Vertigo is a 1.3m (52") flying wing electric VTOL and is capable of carrying a small payload such as a GoPro.
---
---
NEWS: WINGCOPTER PARTNERS WITH UAVENTURE TO DELIVER COMPLETE VTOL SOLUTION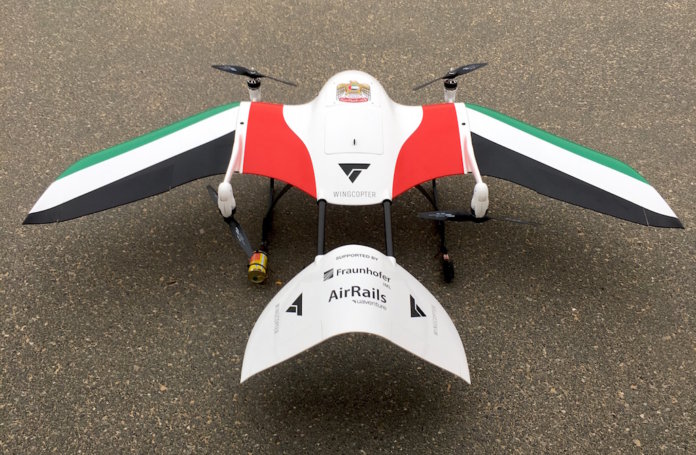 Wingcopter, a German manufacturer of the fully autonomous Wingcopter tiltrotor VTOL and finalist in the 2017 Drones for Good competition, have partnered with UAVenture to deliver a complete UAS for professional applications with their commercial flight control platform, AirRails.
The Wingcopter is a universal all electric composite tiltrotor aircraft capable of carrying and operating a wide range of payloads. It's ideal use-cases include search and rescue, monitoring, inspection, survey, mapping and delivery operations. Bundled together with the tablet-based AirRails ground control station the Wingcopter is easy to use for operators and can be seamlessly integrated into any workflow.
---
---
NEWS: COMMUNITY MANAGER AT XCRAFT COEUR D'ALENE
xCraft is looking for a Community Manger to continue to build a strong relationship between ourselves and our customers. The Community Manager will be required to help establish a strong Social Media presence, lay the foundation for the customer service department and help guide our community through a discussion forum.
A strong technical aptitude is required since this position also requires assisting with customer support and occasionally helping with drone training.
---
---
NEWS: STADIUMS AND ARENAS ARE KEEPING THE GOOD DRONES IN, AND THE SPIES OUT WITH DEDRONE
Filmmakers are always looking for a new way to tell a story, and drones with cameras provide an advanced perspective never seen before, with breathtaking views and new vantage points. We've seen them flying in fleets at the Super Bowl, capturing close-up views of performers, and granting audiences a chance to watch as if they're onstage or on the field. However, when airspace is unprotected, rogue drones can interrupt play, threaten the safety of spectators and infrastructure, and pose unique legal implications for athletes and performers.
---
---
---
NEWS: MARTEK MARINE NAMED ON WORLD'S BIGGEST EVER €67M MARITIME DRONE CONTRACT
Martek Marine (Martek) has been awarded a ground breaking 2-year Remotely Piloted Aircraft Services (RPAS) contract from the European Maritime Safety Agency (EMSA). The services offered will fulfil part of the world's largest ever maritime drone contract.
Part of a five-year EMSA strategy of improving coastguard monitoring and surveillance of maritime activity valued at EUR 67 million, the service provision from Martek not only includes the RPAS, commonly known as drones, but also the pilots, long-range antennae, mission control vehicles and ground crew. Video and drone sensor data will be streamed live to a control centre, to allow EU Member States to make prompt decisions on intervention actions.
---
---
NEWS: CHINA TO OPEN A DRONE FACTORY IN SAUDI ARABIA
China will construct a new facility to produce unmanned aerial vehicles in Saudi Arabia, following a recent visit from Saudi King Salman bin Abdul-Aziz Al Saud Salman. 
The King Abdulaziz City for Science and Technology, Saudi Arabia's national center for all things science and tech, signed a partnership with China Aerospace Science and Technology Corp. on March 16th. The new facility is part of a $65 billion deal signed between the Saudi monarch and Chinese President Xi Jinping during a meeting in Beijing to promote stronger ties between the two nations.
---
---
NEWS: NEW AT PANTHER FLYING DRIVING DELIVERY DRONE VIDEO
TORRANCE, California, 03 April 2017 – Don Shaw, CEO of Advanced Tactics Inc. (AT), that has been a research and rapid development company in Southern California for the last 10 years, announces today that the first aerial package delivery test with a safe drive-up-to-your-doorstep capability video of the AT Panther Air/Ground Robot is now released to the public.
This video shows that AT has successfully completed their first aerial package delivery test with a flying drone that can land with up to a 5-pound in weight package and safely drive up to the door with no propellers turning to deliver a package to the doorstep of a customer. It is believed this is the first successful test of its kind. This vehicle is called the AT Panther Small Unmanned Aircraft System (sUAS) VTOL Air/Ground Robot.
---
---
NEWS: DRONES FOR BUSINESS AND FUN FEATURED IN CURRENT ISSUE OF DRONE360 MAGAZINE
Waukesha, WI – (April 3, 2017) – Drone360 magazine provides an in-depth look at both the fun and serious sides of UAS technology. The March/April issue includes unbiased product reviews (important in a growing industry with multiple manufacturers entering and exiting the marketplace) as well as analysis of the industry and its future.
"We're standing at an inflection point of drone technology," said Drone360 Editor-in-Chief Tim Kidwell. "Within the industry, we see vast possibilities for fun and photos and exploration – and for business and safety and information-gathering. We're reporting on all those developments to provide real insight into how drone tech will help shape the future."
---
---