NEWS: GA-ASI LAUNCHES TEAM REAPER AUSTRALIA
General Atomics Aeronautical Systems, Inc. has announced the official launch of its Team Reaper Australia solution to the Project Air 7003 requirement, together with Australian teammates Cobham, CAE Australia, Raytheon Australia, and Flight Data Systems.
The Team was announced during the opening of the U.S. Pavilion at AVALON 2017 – Australian International Aerospace and Defence Exposition, in Geelong, Australia, by Linden Blue, CEO of GA-ASI, together with Mr. James Carouso, the Charge D'Affairs at the U.S. Embassy in Canberra and Air Chief Marshal Sir Angus Houston, AK, DFC from Defence South Australia.
---
---
NEWS: 'BEE' DRONE IS A ROBOTIC FLOWER POLLINATOR
A student in Georgia wanted more people to understand the significance of bees to human life — so she created what's essentially a "bee drone" to be a functional teaching tool that couples technology and design. In North America alone, honeybees' role in pollination enables the production of at least 90 commercially grown crops, including apples, blueberries, melons and broccoli.
---
---
NEWS: HARRIS CORPORATION TO HELP DEVELOP FIRST US BVLOS NETWORK FOR DRONE OPERATIONS
Harris Corporation has received a two-year grant to help develop a first-of-its-kind solution to enable beyond-visual-line-of-sight (BVLOS) operations for unmanned aircraft systems (UAS).
Representatives from Harris and North Dakota announced a partnership agreement today to create the first UAS network in the nation to provide a full range of aviation-grade services for safe and efficient UAS BVLOS operations. Representatives then conducted a UAS flight demonstration during Harris' Tech Expo being held February 27-March 3 in Melbourne.
---
---
NEWS: OLAERIS GETS UAV DOCKING & RECHARGING PATENT
Olaeris has announced that it has been granted U.S. Patent #9577445, outlining proprietary technology and methodology for autonomous alignment, docking, recharging and/or refuelling of unmanned aircraft. The patent also extends to water borne drones and zero-G vehicles such as spacecraft. The technology significantly reduces the most expensive part of UAS operation which is manpower.
---
---
NEWS: V-TOL AND RELMATECH ANNOUNCE DRONE DAY/NIGHT BVLOS FLIGHTS
V-TOL Aerospace has extended its partnership with UK-based RelmaTech to claim another world first in UAS operations, successfully conducting day and night beyond visual line of sight (BVLOS) flights continuously monitored by an operational UAS Traffic Management (UTM) system.
On Wednesday 1st March this year, V-TOL exceeded current legal limitations using its unique flight permissions issued by the Australian Civil Aviation Safety Authority (CASA) and Royal Australian Air Force (RAAF) to commence routine day and night BVLOS operations. The groundbreaking flights were undertaken using V-TOL's fixed-wing and multi-rotor UAS at its Brisbane flight centre, sited 10km from Australia's largest active Air Force base, RAAF Base AMBERLEY, Queensland.
---
---
NEWS: AUSTRALIAN TRANSPORT SAFETY BUREAU (ATSB) RELEASES DRONE SAFETY RESEARCH REPORT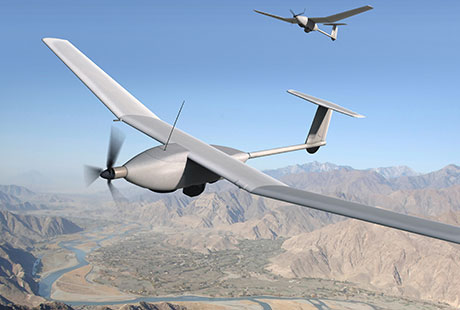 The ATSB has today released a research report into the safety of remotely piloted aircraft systems (RPAS) or drones.
The report finds the number of encounters is increasing. While there have been no reported collisions between RPAS and manned aircraft in Australia, and given the variables, the potential consequences of collisions are not yet fully understood.
"Our report seeks to better understand the implications for transport safety associated with the expected continual growth in the number of RPAS in Australia," ATSB Chief Commissioner Greg Hood said.
---
---
NEWS: LOOKING FOR A PLACE TO FLY YOUR DRONE?
It can be hard to find good spots to fly your drone, especially if you live in an urban area, or a place with a lot of flight restrictions. Or sometimes you just want to get out of the same old rut, flying the same course over and over again. The best way to find new and interesting places to fly is by asking your friends, or in this case, the rest of the drone community. Start-up resource, Quadspots.com, is tapping in to this crowd-sourced knowledge to bring you a way to share and discover great places for drone hobbyists to get out and fly.
---
---
NEWS: SOLAR CELL TECHNOLOGY FOR NRL SOLAR-SOARING UAV
SolAero Technologies Corp. (SolAero), a provider of high efficiency solar cells, solar panels, and composite structural products for satellite and aerospace applications, announced  that it has delivered its high performance, lightweight solar cell technology to the U.S. Naval Research Laboratory (NRL) to power its Solar-Soaring UAV demonstrator.
---
---
NEWS: NORTHROP FIREBIRD TESTS UAV COLLISION AVOIDANCE SYSTEM
Northrop Grumman's Firebird optionally manned demonstrator has completed an early shakedown of the anti-collision system intended to make the skies safe for unmanned and manned aircraft.
The flight tests over Mojave, California, will provide the data that shows how well the version of the Airborne Collision Avoidance Warning Systems (ACAS) designed for unmanned air vehicles (UAVs) conforms to simulation models. Any discrepancies will be used to refine the models, which shoulder the load of the development activity for the new system.
---
---
NEWS: TERRA POWERLIFTER OFFERS 10KG PAYLOAD
A new unmanned aerial vehicle offering up to two hours continuous flying time and capable of carrying a payload of up to 10kg has been released by Terra Drone Corporation. 
Terra Drone's Brisbane branch chief Tsuyoshi Honda said unlike other UAVs, Terra Powerlifter did not require a long take-off or extra flight stabilization despite its heavy payload. It far exceeding the standard 1-2kg payloads and flight times of 15-20 minutes offered by competitor models, he said.
---
---