NEWS: INDIA FLIGHT TESTS LAKSHYA-II TARGET DRONE
Indian Air Force (IAF) has tested the advanced version of Pilot-less Target Aircraft (PTA), Lakshya-II from the Integrated Test Range on Wednesday last week. The unmanned aerial vehicle was flight-tested off Odisha coast from the launching complex-III of the test range at 4.25 pm and demonstrated its full capability.
---
---
NEWS: KRUGER PARK, SOUTH AFRICA, STOPS ANTI-POACHING DRONE EXPERIMENT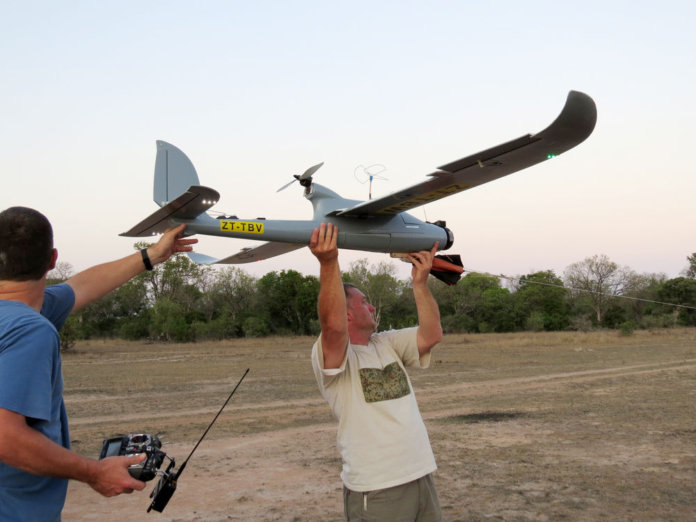 Speaking to South African website Defence Web  Mark McGill, technical operations manager at SANParks, said that the UAV test period was "very disappointing" as no poachers were seen and none apprehended. He said that UAVs need a lot of further development before they can be useful.
This really comes as no surprise, anti-poaching patrols are one of the most emotive use cases touted by drone manufacturers. On the face of it a good idea, but the reality is something else.
---
---
NEWS: US ARMY TESTS DUAL-ROTOR UAS FOR CASUALTY EVACUATION
Dragonfly Pictures Inc.'s DP14 Hawk, a dual-rotor unmanned aerial system, could play a role in a U.S. Army effort to one day use drones to evacuate wounded soldiers from the battlefield.The DP14 Hawk, which resembles a miniature CH-47 Chinook helicopter, can carry 430 pounds in its six-foot by 20-inch cargo space for about 2.4 hours.
It has a cruising speed of about 82 miles per hour and is capable of flying in crosswinds up to 46 mph.
The DP14 Hawk uses onboard LIDAR, or 3D laser scanning, and advanced algorithms to self-navigate in complex, restricted environments, according to DPI's website. This includes advanced intelligence for path planning, course corrections, perception, obstacle avoidance, and landing-site selection.
---
---
NEWS: FLYING CELL PHONE TOWERS – ONE STEP CLOSER
Fenix Group, a private VA based technology firm, has partnered with Martin UAV, a Texas based manufacturer of rugged utility drones to launch the world's first under-55-lbs. drone capable of providing fully functional 4G cell phone service.
The feat may be a world's first, and the company sees huge potential for government and industry.
---
---